It all started with a vision to create robots to perform household chores as intelligently as humans—something to make complicated processes simple or something to allow humans to transfer menial tasks to appliances, so they didn't have to do these tasks themselves. In 2010, NEATO launched the first smart, laser-navigating robot vacuum, which would pave the way for other companies to follow in their footsteps and make robot vacuum cleaners smarter and more efficient in cleaning.
Based on: 66,371 user reviews 63 expert reviews 27 robot vacuums with laser mapping compared
See all the 48 best robot vacuums here.
Specification comparison
Laser navigation is a state-of-the-art option for free navigation, which, simply put, means the navigation of a certain object without the need for wires, tapes, and reflectors. This is done by mounting a rotating laser scanner on top of an object and allowing it to accurately measure angles and distances in relation to itself.
Laser navigation has become quite popular for various reasons, and comes in various forms, such as the type of navigation found in LGV's (laser-guided vehicles). Over the past few years, however, laser navigation has become a very useful addition to household appliances, mainly robot vacuums, as brands try to find ways to make their appliances work smarter and more efficiently.
Robot vacuums that are equipped with laser navigation are more advanced in terms of technology. They can easily sense their environment with the use of LiDAR (light detection and ranging). Not only can they operate in total darkness, but they are also able to map a room precisely. They are more efficient when it comes to cleaning, and are less prone to bumping into furniture. They are also faster and take less time to make their cleaning rounds in a room, due to their high-precision sensors that let them plan out the best cleaning map around a room.
Pros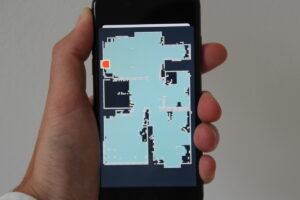 Smart mapping: A robot that is equipped with laser navigation scans your whole home, and stores a floor map of every room. While it is cleaning, it will use the information on that floor map to come up with the best possible cleaning pattern.
Safety: Robots with laser navigation are not only able to detect your floor map; they can also detect objects to avoid bumping into them. Valuables, such as vases, and items that could cause further destruction to your floor or your robot, such as your pet's water dish, are all safe from being damaged when your robot makes its cleaning rounds.
Speed: Robot vacuums with laser navigation are equipped with the technology that will let them scan your home and create a map. Thus, they have the ability to clean your rooms faster because they are able to come up with a cleaning plan, and pattern, to avoid having to go back to spots they missed or even returning to a place they already cleaned.
Cons
Expensive: It's no big secret that robots with laser navigation tend to be a bit on the pricier side. With the best kind of technology in them, they can cost more than robots that are equipped with gyroscope sensors or stereoscopic cameras.
Huge houses, or houses with multiple rooms: If you have a big house, or a house that has multiple rooms, you'll want a robot that can easily and efficiently do the cleaning for you. Because robots with laser navigation are able to map out the whole house very precisely, they can store the various floor levels and rooms in their system and take a specific map out when they need to do the cleaning.
Night-time or odd cleaning schedules: If you want your robot to do the cleaning at night, or while you're away, and the rooms are dark, a robot vacuum with laser navigation is what you will need. Robot vacuums that are equipped with laser navigation are able to navigate around the house and do their cleaning, no matter how dark it is. Because they are able to make their way effortlessly around your home, there is little need to supervise them, or constantly check up on them, compared to other robot vacuums.
While robots navigate their way around homes and pick up crumbs, dirt, debris, and sometimes even pet hair from your floors and carpets, they also need to be equipped with something that will help them "see" their way around furniture, walls, and other obstacles.
However, not all robot vacuums are built with laser navigation, as this can increase their price considerably. Other robot vacuum cleaners are equipped with sensors, cameras, and various kinds of technology to help them navigate around your home. Some of them are:
Camera-based mapping / stereoscopic cameras
Robot vacuums that are equipped with cameras allow the robots to take shots of their surroundings, and create a map of the house. While they can be pretty accurate in recording and navigating, they are not as accurate as robots equipped with an LDS (Laser Distance Sensor), nor can they work in the dark.
Some robot vacuums come with sensors, such as gyroscopes and accelerometers, which is a somewhat cheaper technology used to measure distances and objects around your house. Nevertheless, their measurements are not as precise, their map is not very accurate, nor is their navigation as good as the one in robot vacuums with laser or camera-based technology.
Infrared sensors
Robot vacuums with built-in infrared sensors allow the robot to sense when it is about to approach an object, or a ledge, in order to keep it from bumping into things or falling off stairs.
Some robot vacuums have more than one of the sensors or technology listed above. A lot of the robots use one kind of navigation technology (e.g. stereoscopic camera, or gyroscope), but include a combination of infrared sensors in the sides and bottom of the robot, to help it detect objects and stairs.
In our comparison of the 48 various robot vacuums, 50 % are built with laser navigation. The chart below shows the distribution in terms of navigation methods for various robot vacuums.